This post may contain affiliate links, which means I'll receive a commission if you purchase through my link, at no extra cost to you. Please read the full disclosure here.
This post is all about how to cure eczema.
Disclaimer: there is no known *cure* to eczema. However, I have been able to heal 100% from eczema and have remained clear of eczema for 3 years despite the occasional flare up lasting no more than 1 week.
Today I'm going to share with you how I was able to cure my severe eczema, or atopic dermatitis.
And let me begin by saying, my history with eczema goes way back.
Some of my earliest childhood memories are of my mom lathering lotion on my skin after an oatmeal bath, and applying topicals to the cracks of my arms, behind my knees, and under my eyes.
Now let me say, I have also had periods of relief throughout my childhood and adolescence years. During this time, my eczema subsided into a manageable state. Those periods however were short-lived and eczema has pretty much been a part of my identify for as long as I can remember.
However, it wasn't until my early twenties that my eczema reared it's ugliest head yet and I went into a really dark place as I struggled to get it under control.
After a few years, and lots of trial and error, I want to share with you some valuable tips that were total game changers for me when it came to curing my eczema.
Without further ado: here are my top tips for how to cure eczema.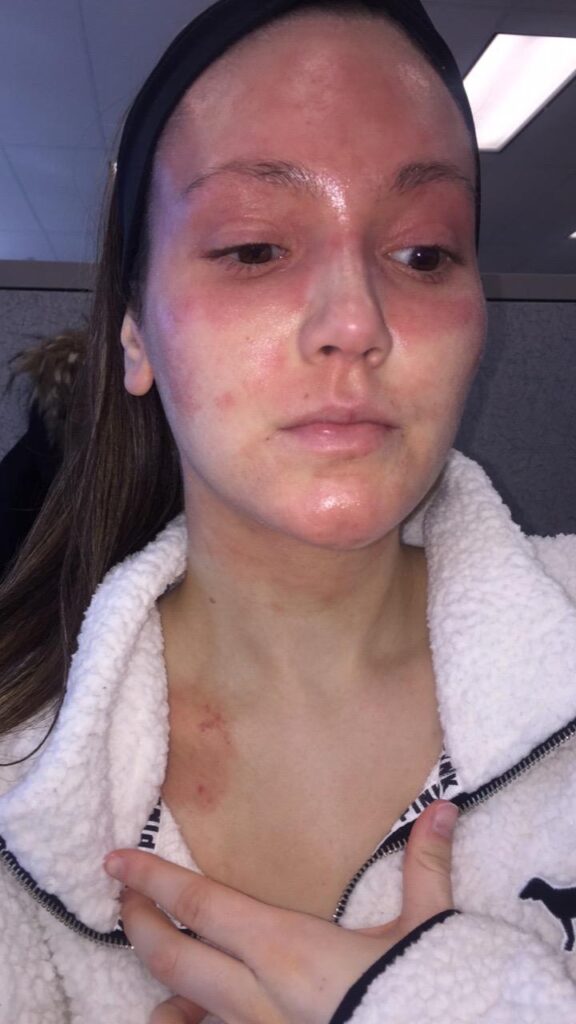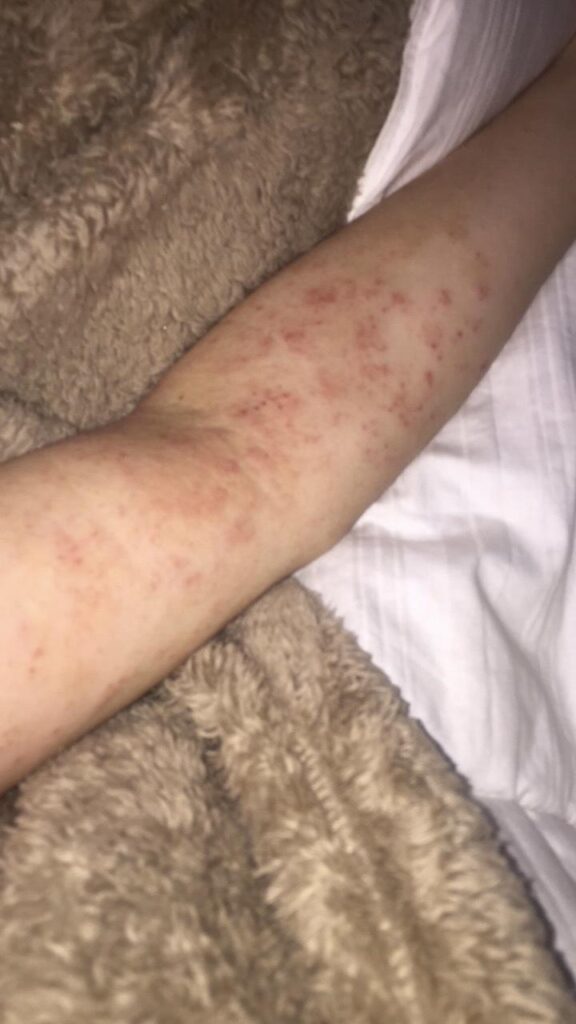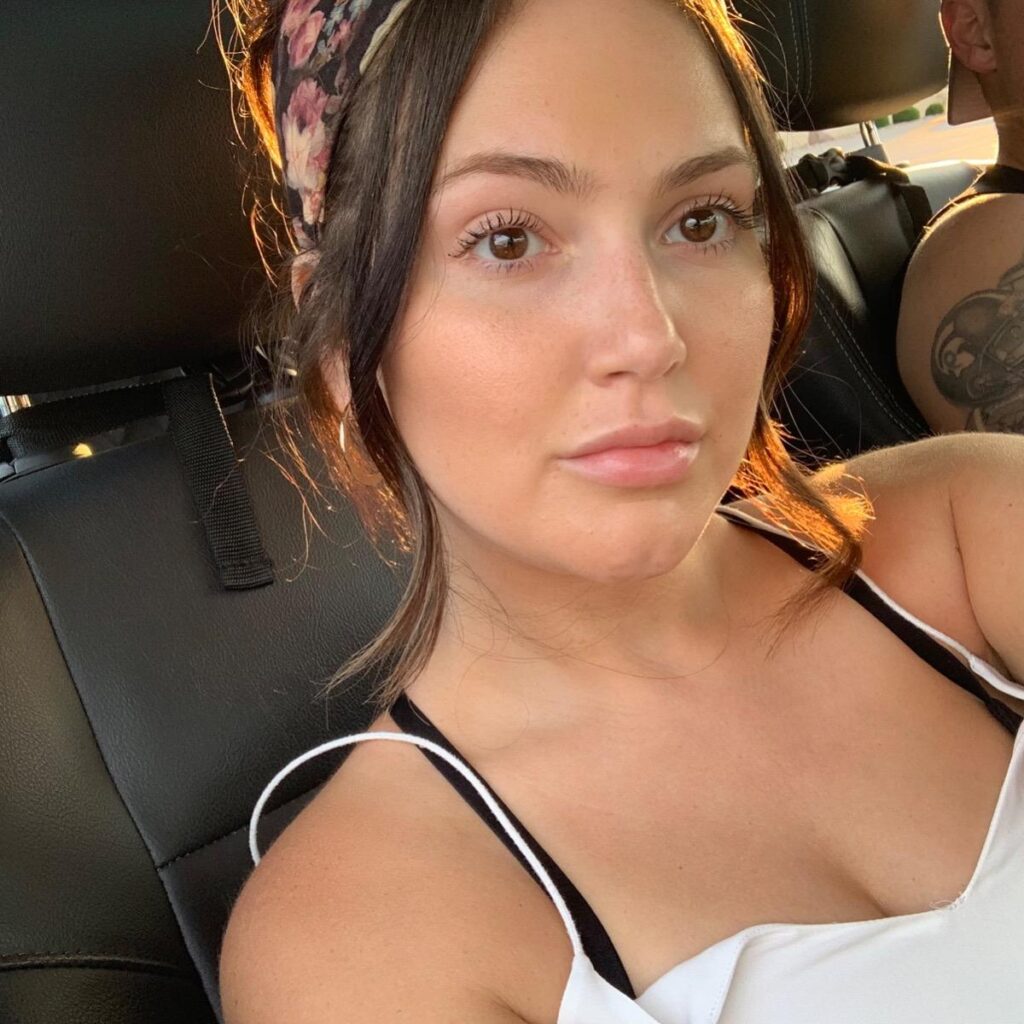 1. Identify Your Eczema Triggers to Cure Eczema
My first tip may sound simple, but anyone with eczema knows it's not that easy.
It took me years to pinpoint the combination of things that were triggering my skin condition.
It's obviously not possible for everyone to avoid and eliminate any and all triggers. The important thing is to either find ways to reduce the impact of the triggers or find peace in knowing it is only temporary and you will recover once the trigger subsides.
How to Reduce Difficult Triggers
I've found that some of my biggest eczema triggers ended up being changes to weather (seasons) and stress. These also happen to be ones that are difficult to control. It isn't as simple as avoiding a certain irritant or food ingredient.
For instance, I can almost always expect my eczema to flare up around November. This is when the heat gets turned on and we transition to hot, dry air in the house and cold dry air outside (I live in the midwest).
I try my best to combat this by using a humidifier and keeping my skin extra moisturized.
Stress is another huge one and one of my top triggers.
I was constantly stressed when I had to try to carry about my day in an office full of people when my skin was super crawling and inflamed. It was a daily struggle to go in and showcase my beat red oozy face for all to see and resist the urge to claw at my skin.
So once I was able to take some time off of work, (I had to wait until I became eligible for FMLA and Short Term Disability) I noticed an almost immediate improvement in my skin.
I'm aware that not everyone is in the position where they are able to take time off of work. But if you are, I highly recommend it for severe cases of eczema.
Sometimes just pressing pause, resetting, and getting back to the basics of taking care of yourself mentally and physically can work wonders.
2. Go Get Patch Testing to Cure Eczema
This tip is HUGE.
Ask your dermatologist to administer patch testing for delayed allergic reactions.
I'm telling you – if you haven't had this done, yet. Go do it. Like, yesterday!
After struggling for so long and even after periods of using some pretty serious meds like Cyclosporine and Dupixent, my dermatologist suggested this. It's essentially a week long test where common skincare ingredient allergens are applied to patches all across your back.
They are left on for 48 hours minimum and you're not supposed to shower during this time. You then come back in for the removal of the patches and your first reading. After another 48 hours with the patches removed you come back for your final reading.
Unlike traditional prick tests that you would break out to immediately or within a few minutes of application, this test identifies allergies which may not show up for a day or two after exposure.
For me, I found that I was allergic to several of my face products I was using on a daily basis. Even the ones I thought were actually helping my skin (one of which was a thick cream by Eucerin). Turns out, it contained methylchloroisothiazolinone along with propylene glycol which were two products my skin was reacting to.
Once I finally started watching the ingredients closely and only using *safe* products, my eczema decreased by at least 50-60% which was amazing.
3. Help Cure Eczema using Natural Oils
This goes hand in hand with the last tip and it is to use more natural products. The ones that were most critical in my healing were Marula oil and Rose Hip Seed oil.
These are 100% organic, one ingredient, and cold pressed. They are extremely facial-skin friendly and were imperative in the beginning stages of healing my eczema.
During that time, it seemed like nearly everything that touched my skin made it angry except for natural oils.
A general rule of thumb is the less ingredients the better!
For a complete list of the absolute best facial moisturizers for eczema, be sure to check out Best Face Moisturizers for Eczema.
4. Go Tanning to Help Cure Eczema
Another thing that helped me so so much, especially in the beginning stages of healing my skin, was tanning.
I know, I know.
Tanning is kind of a taboo or frowned-upon thing to suggest in the health community. And I am well aware that skin cancer is a real threat, so please go tanning at your own risk.
However, it really was one of the only things that gave me fast relief. At one point for a few months I was going tanning every single day like clockwork because it was the only thing that would dry up my flares and take away the itch.
I tried to alternate with getting natural sunlight exposure as well. But if I'm going to be completely honest, I did notice the tanning beds were way more effective.
I was even prescribed an in-home UVB unit but unfortunately it didn't help me near as much as going to a regular tanning salon bed.
I'm not sure on the scientific 'why' behind this – but that is just my personal experience.
5. Use Salt in the Shower
Applying salt directly onto my skin during a hot shower was one of the few things that relieved the itch of eczema. You can either use sea salt or epsom salt.
I have tried both and I prefer Dead Sea Salt (sea salt derived from the Dead Sea).
This is the exact one I use and continue to repurchase to have on hand in case of a bad eczema flare-up.
Make sure if you use epsom salt you check to be sure that epsom salt is the only ingredient and there is no added fragrance or essential oils.
How to Apply Salt to Relieve Itchiness
There is a very specific technique I use when I apply the salt in order to take away the itch.
I know this kind of contradicts a lot of what you see about showers in the eczema community (ex: don't take hot showers since it dries out the skin more).
BUT for me, this technique was a literal life-saver when my skin was crawling.
Here's what you do:
Step 1: During a hot shower, take a handful of salt and place it directly on to your itchiest eczema area. Really pack it on.
Step 2: As much as it burns and stings, let it sit and simmer. It will subside within about 10-15 seconds. Just BREATHE through it. 
Step 3: Once the burn goes away, rinse the area with hot as you can stand water. If you thought the last step was bad, this one is going to burn just as bad if not worse but it is the most important part.
Once the burn is gone you will be left with skin that DOES NOT ITCH. I have found this gives me relief for hours after showering and it was super useful in preventing me from breaking open spots that I continually itched over and over.
6. Ice Away the Itch
Try using ice packs to numb the itch of eczema. When I was going through the worst of my eczema I relied heavily on my nightly icing sessions.
These ice packs are a life saver.
Once I discovered the power of icing my eczema, lying down with an ice pack on my face and neck became part of my nightly routine. It was therapeutic to lay down comfortably without any itch and just unwind while icing my skin.
Even months after my eczema healed I found myself continuing to ice my skin. It had became such a part of my daily routine and it was so comforting after a day of feeling like my skin was hot, inflamed, and itchy.
If icing isn't for you, a good substitute would be to keep a jade roller in the freezer and glide it across the itchy spots on your skin.
Final Words on How To Cure Eczema
That concludes my top tips for how to cure eczema!
If any of these have helped you or if you have any to add, please drop a comment.
I know when I was going through the worst of it I would spend HOURS combing through blogs to find what really worked for people and this would have been so helpful for me then!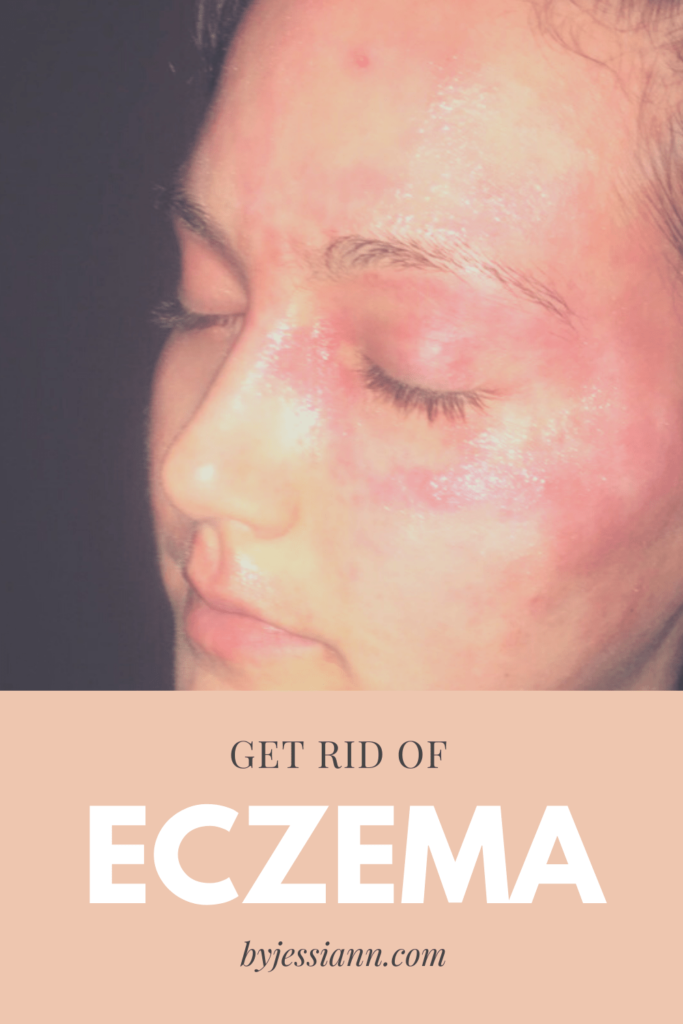 ---
Needing more valuable eczema resources and tips?
Be sure to check out the following posts:
The Best Foundation Makeup For Eczema Sufferers
How To Get Eczema Under Control – 11 Tips No One Talks About
Eczema Skincare – My 5 Step Routine (That You Should Follow Too)